You will need
A sprite 64 x 64 pixles
ms paint (comes with windows)
irfanview (Google or i could post it)
UNLZ GBA (" ")
FreeSpaceFinder (" ")
1)First open your sprite make sure its 64 x 64 pixles
2)next open up irfanview and decrease color depth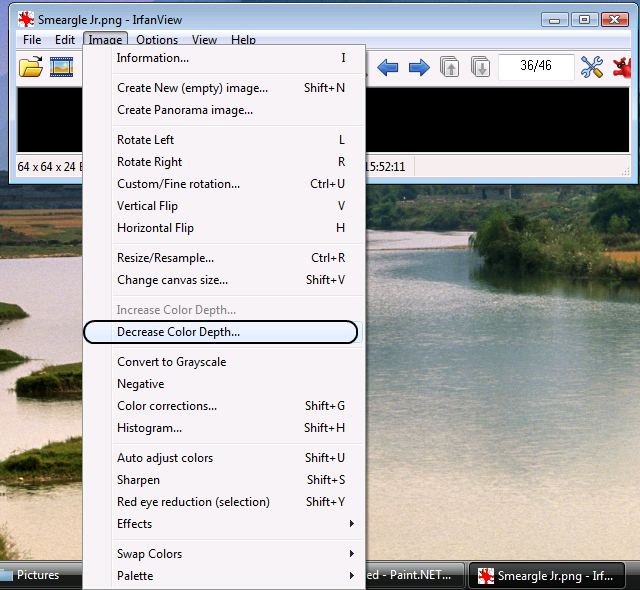 3)then make it 16 color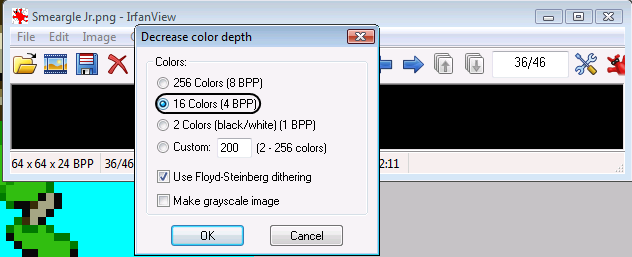 4)Next edit the palette
5)Then when editing take the first color and the background color and switch them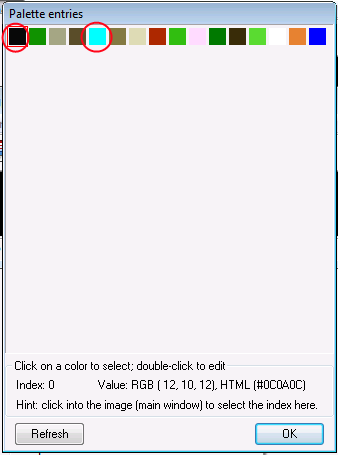 6)It should look a little like this
7)Then save as a new file and open the new file and the old one in paint
8)And on the old one press \"ctrl\" and \"a\" then \"ctrl\" and \"c\" then go to the new picture and press \"ctrl\" and \"v\"
It should look like this.
9)Save the new file and you can delete the old one if you want.
10)next open up UNLZ and find a pokemon you would like to replace like here.
11)Click import and find your new picture that we just did and hit ok
12)Then click write to rom.
13)After hitting ok this might come up. if not skip to step 17
14)Next open FSF and the numbers that sowed up in the last step we put in the Hex and a new # comes up in the Dec and just follow the picture.
15)Follow the picture.
16)It then will say something like pointers fixed
17)Next just follow this picture after pressing write to rom
When your are done in game if you find farfetched in my game it will be this pokemon.
If you have any questions PM me or post here
Btw plz give me some feedback.